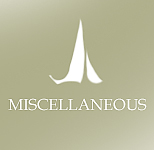 Links
Click To See

Excellent Magickal Websites
Excellent Pagan Websites
Banner Exchange

My Banners
for linking to this site
Link to http://www.livingwithmagick.com/
If you wish to exchange banners or links, contact me with your information.


EXCELLENT MAGICK WEBSITES

Huge Magick Books Collection
Christina Debes's Books Library. Her personal collection of books contains several thousands books, 1500+ of them located (as downloadable PDFs) on her site (She is constantly adding new ones).

Order of Thelemic Knights
A Thelemic Order founded by Gerald del Campo.

The Magick and Mysticism of Bill Heidrick
A collection of the writings of a long-time officer of the O.T.O.

Lucky Mojo
An eclectic collection of Usenet material including a large library of hoodoo and folk magick material.

The Libri of Aleister Crowley
Extensive collection of the writings of Aleister Crowley.

Hindu Tantric Home Page

The Mysticism of Sex
Very intriguing site on sacred sexuality.

Colin's Hermetic Kabbalah Page

O.T.O. U.S. Grand Lodge

The Hermetic Library
The main portion of the site above that hosts the Heidrick and Crowley collections.

The Hermetic Order of the Golden Dawn

The Principia Discordia
The infamous Discordian "holy text."



EXCELLENT ESOTERIC BOOKS LIBRARY


EXCELLENT PAGAN WEBSITES


Circle Sanctuary
Founded by Selena Fox.

Pagan Nation.com


BANNER EXCHANGE


Interiores Adverte
Magick-related site of my friend Frater Solemnus.

Fantasy Art by Mats Holmgren
Art site of my first internet friend ever. Great stuff!



Copyright ©1998~2009 Living With Magick (except where noted). All Rights Reserved.